Welcome to Lhotse's Chamonix-Mont Blanc Website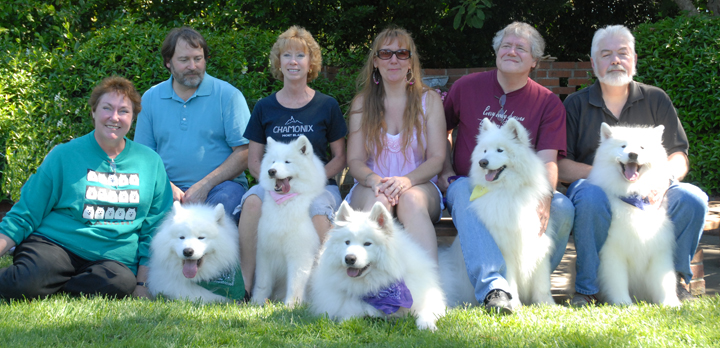 5th birthday party, all pups were there, but sadly missing was Mama Dog Lhotse, lost to cancer in May.
Patti & Michael with Kasey, Lynda with Chamonix, Kalin with Ted E. Bear, John & Chaucer and Darrel and Boomer.
Small party for the 4th birthday party, Denali in red, Lhotse, Chamonix and Chaucer
Here is a link to all the pictures of the party!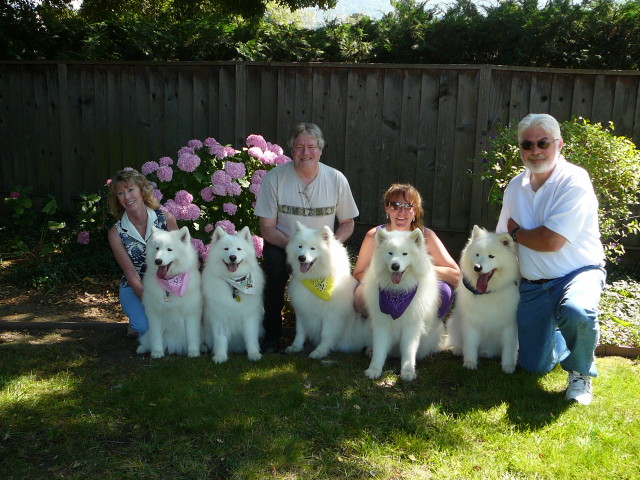 3rd birthday, Chamonix, Lhotse, Chaucer, Ted E. Bear, & Boomer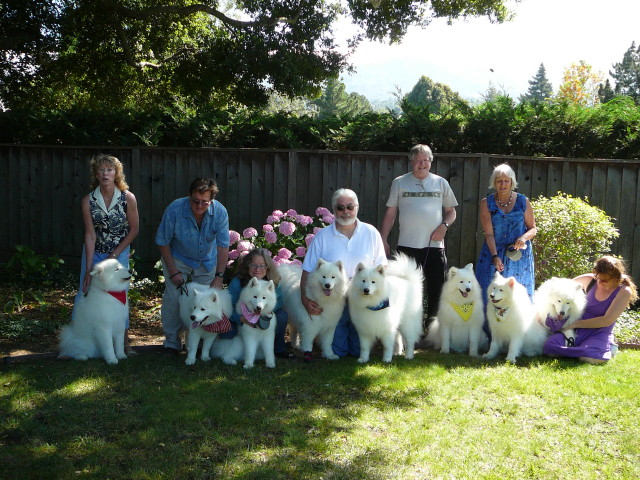 And at the 3rd birthday party we had some more guests, Denali, Balto, Chamonix, Gracie, Boomer, Chaucer, Lhotse and Ted E Bear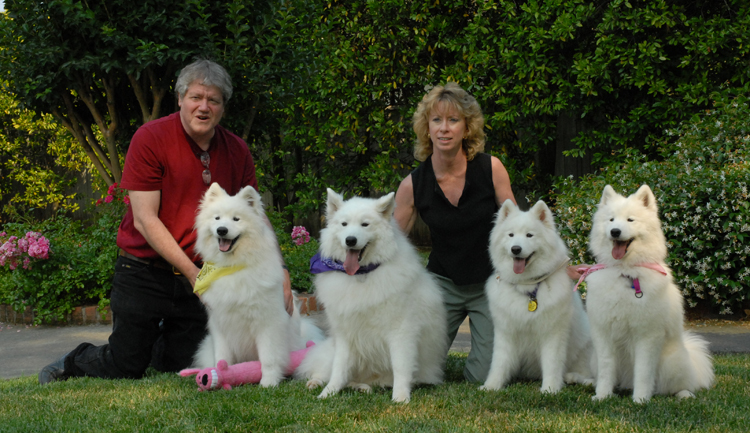 Pups 2nd birthday, Chaucer in yellow, Ted E. Bear in purple, Lhotse and Chamonix in pink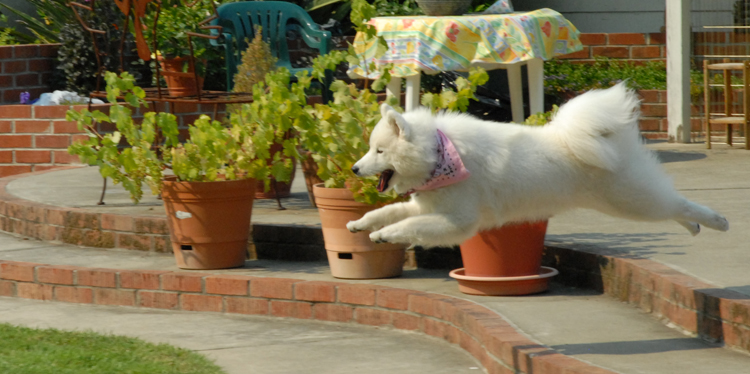 Chamonix can fly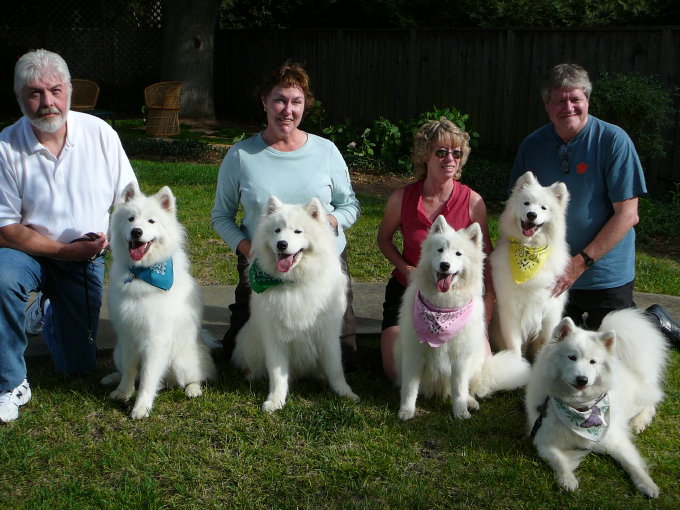 Puppies first birthday, each pup has their ribbon color, and Mommy Lhotse lies in front.

Chamonix is in the pink bandana.

Chamonix had fun at her first International show, when she got her Junghund National Title, and went BEST IN SHOW - Bred by Exhibitor Puppy!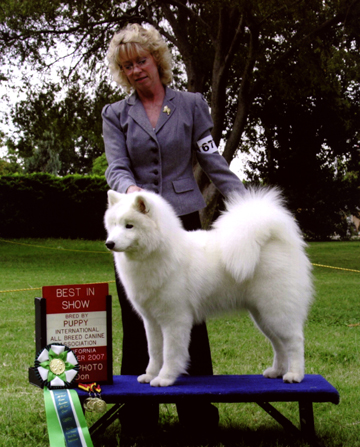 Chamonix with her Best in Show ribbon and medallions.

Here she is with her big ribbon after the show she was so tired!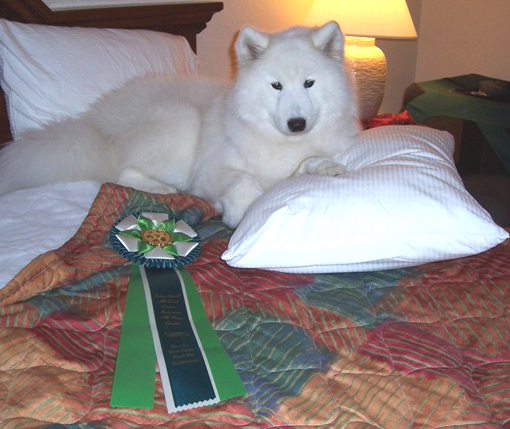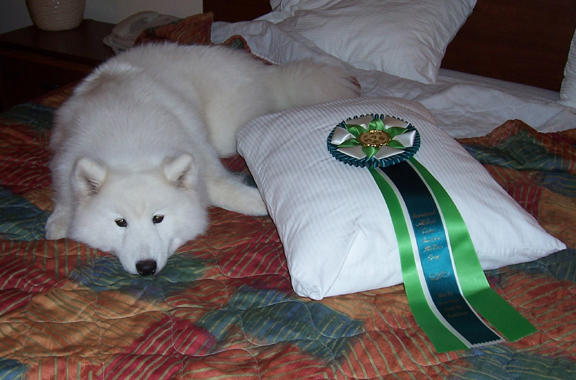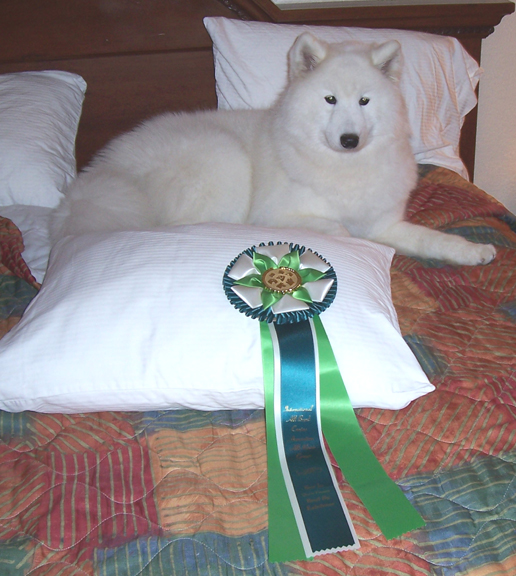 Visit Lhotse or Denali at their websites:
CH Bravo's at Lhotse Summit, CGC
CH Orkdomain's Ascent of Denali, CGC
Owners: Lynda & Larry Tusoni
Angels Camp, California
Email for More information
Member of the
Samoyed Club of America

Designed & Hosted by Goldrush World Access
Copyright © 2003 - 2010
Larry and Lynda Tusoni
All rights reserved